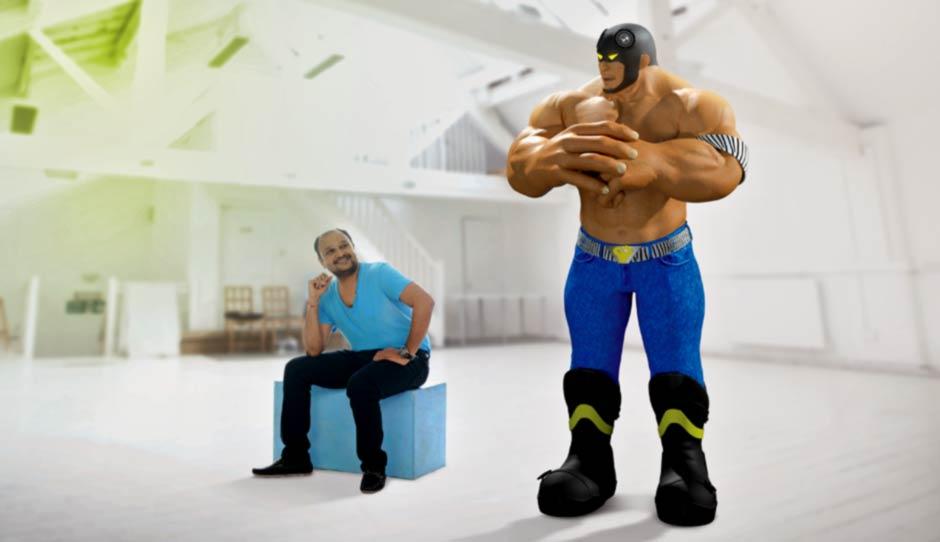 The consumer electronics segment of our company is doing much better at 35 per cent when compared to the computer peripheral division since the last two years. To accelerate this growth rate further, we diverted the focus of our marketing spends on the electronics business especially our range of speakers called Sound Monster. We have nine sleek-designed speaker options all within the price range of Rs 1,000 to Rs 10,000. Due to the affordable pricing, we zeroed in on the speakers' range so we could sell larger volumes and increase our sales revenue, making up for the quite stagnant computer peripheral vertical.
Last year, we began contemplating on innovative ways to create buzz around these speakers. Digital marketing was an uncharted space for us as before that, for almost 15 years, we used only print for advertising. For digital marketing, we were clear we wanted the campaign to be built around music and dance so it was aligned well wih our tagline "Bring home the party". We explored different ideas with three digital marketing companies in Chennai but we particularly liked the augmented reality idea proposed by InGage Technologies, the Chennai-based digital customer engagement company. They own a patented software called InGage that combines augmented reality with 3D animation. Augmented reality enables the user to interact with our products, and have fun doing it. Another reason we were excited about augmented reality was for its novelty; we certainly hadn't seen anyone in South India use it.
We worked with InGage Technologies for four months, from March to June 2014, to develop the whole marketing campaign. The first step towards that was to create the brand persona of the Sound Monster. We had made an avatar way back in 2009 for our print advertisements but it was poorly done and looked quite ferocious. It was high time we revamped it. For the new avatar, we wanted to keep its muscular frame as it ties in well with the name Sound Monster, highlighting the strong bass and treble of our speakers. However, we decided to tone down the facial expressions to bring down the fierceness. We added a black face mask and speaker cones in place of ears to create resemblance with the product. We also included our brand colours, azure blue and laser lemon along with zebra stripes on the armband and waist belt for brand connect.
When you work together with your people as one team trying to make the best use of available resources, it is then that you come up with something innovative."—Rajesh Doshi, Top Notch Infotronix
When the Sound Monster was ready, we worked to create the augmented reality experience on two platforms—for large public spaces and for mobile. We first created augmented reality for larger spaces such as shopping malls in which the Sound Monster in the TV imitated the moves of the person standing in front of it. We wanted the movements of the Sound Monster to be accompanied by music so it creates a party-like atmosphere. For music, we decided to go for a local music band instead of an established music company to control costs. Our brand manager Gaurav Baid who is a rock-music enthusiast suggested Skrat, an upcoming young band from Chennai. They had released Bring Out the Big Gun, their second album in February 2013, and we used their song Tin Can Man for our music. Its high-energy beat gelled perfectly with the Sound Monster's character and moves.
We organised the first marketing campaign in Vijaya Forum Mall in Chennai on September 21, 2014 and it was a big hit. We got 700 people to dance with the Sound Monster and almost 70,000 onlookers. Children enjoyed doing high fives with it and took selfies with its six-foot standee. This helped create a lot of brand awareness and word of mouth among customers. We got 300 product enquiries on just that day. Since we don't sell our products during these campaigns we forwarded the contacts to our dealers and distributors. Generally, marketing activities have a push effect but this campaign managed to pull people in. Due to the good response, in next three months we did similar events in the campuses of IT companies in Chennai such as Infosys and Capgemini, as part of a corporate engagement programme called Zeb Connect. In all these companies, we got almost a lakh people to engage with the Sound Monster. If each person interacted with the Sound Monster on an average for three to four minutes, the total engagement time with the brand is 4.4 lakh minutes.
Since it is quite cumbersome to conduct such large-scale campaigns, we also created an augmented reality experience for mobile. Mobile media consumption is the fastest growing segment in India and has a much wider reach. For the augmented reality experience on mobile, users have to download a mobile app (available for both iOS and Android) and as they point their phone camera at the Zebronics logo or the tracker, they can see the Sound Monster come alive and can interact with it. In the app, the Sound Monster destroys the old speakers and starts dancing as he hears better quality sound from the new speakers. The users can access also the tracker from a webpage on our site. To further promote the interactions, we have included the tracker across all the collaterals, posters and print advertisements. The mobile app has registered 20,000 downloads from all these different platforms over the last three months and approximately 50,000 people have engaged with it on a one-to-one basis from their mobile phones for a total of about 19,500 minutes (around 325 hours).
As we developed the augmented reality experience, we also worked with InGage to make a 10-second television commercial of Sound Monster dancing to the music from our speakers. It was aired on CNBC-TV18, CNBC Awaaz, CNN, IBN, Zee Business and Zee News from July to September this year especially during shows such as budget announcements and coverage of Prime Minister's visit to the US—slots when TRP is expected to be high. Due to the positive response, we are working on a 30-second TV commercial that will be broadcasted on news as well as music channels most likely from January 2015. Working with InGage helped us in creating a seamless synergy between all promotional activities in all the different platforms—for public areas, mobile and television commercial. Due to these promotional activities our sales have grown by more than 50 per cent in the past six months.